Empower QLM Featured in North America Outlook Magazine
Empower QLM was recently featured in North America Outlook Magazine (issue 02, February 2021) and promoted alongside PACCAR to highlight innovation and sustainability in the transportation industry. The issue focuses on the importance of global technology, supplier relationships, and partnerships in design, manufacturing, and engineering for continued success. Most importantly, it showcases the critical importance of quality management for total supply chain optimization.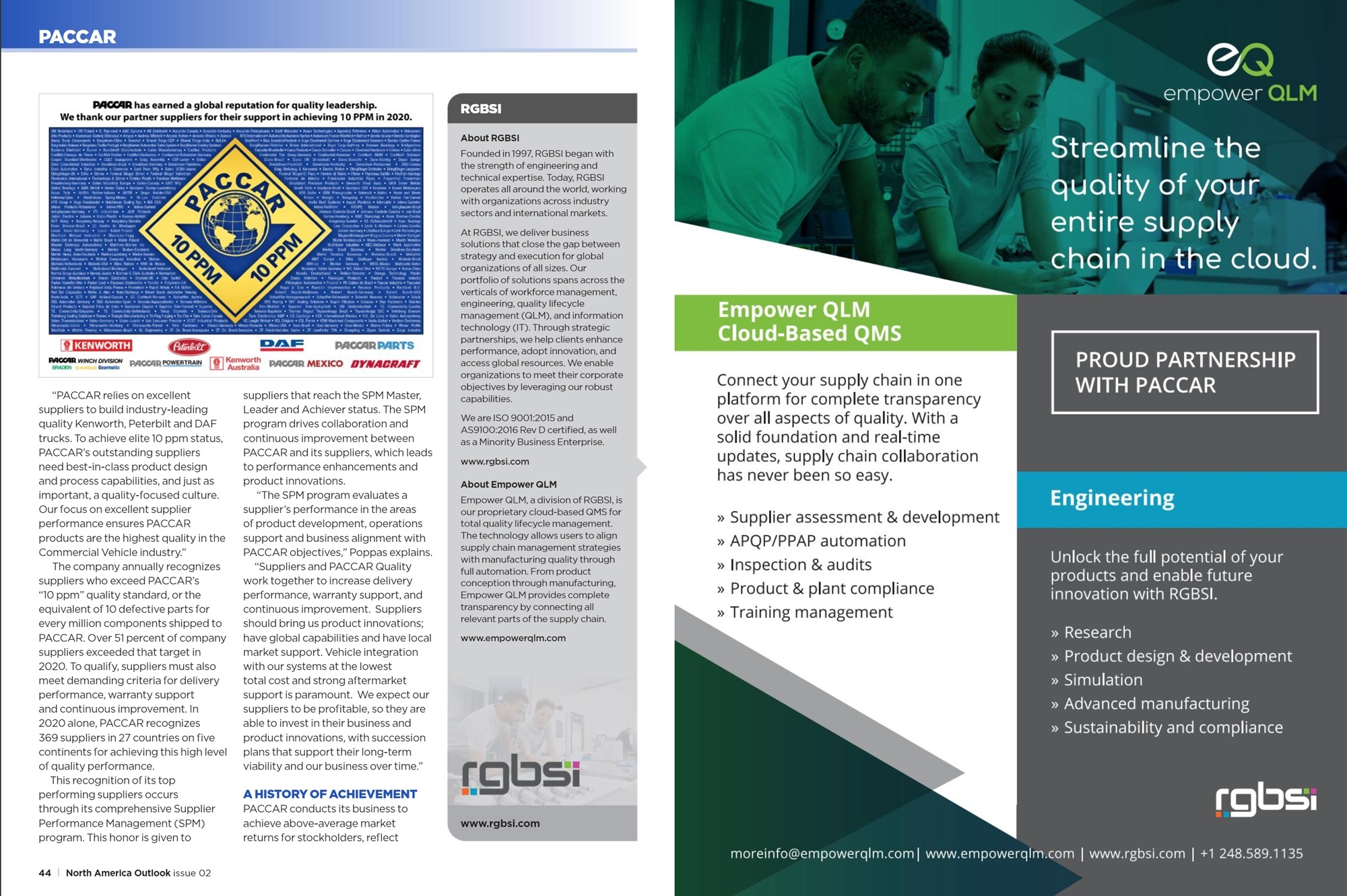 With technological improvements, transportation investments, and regulators driving electrification of transport, the demand for cloud-based quality solutions is on the rise. With electric vehicle OEMs in its client base, Empower QLM's robust QMS platform supports these organizations in quality management automation. With Empower QLM, companies can streamline the quality of their entire supply chain in the cloud. A connected supply chain with collaboration is made possible within the platform for complete transparency over all aspects of quality.
The PACCAR cover story captures the company's approach to innovation in the trucking transport industry. The company makes strategic investments in latest technology and supply chain quality to be at the forefront of commercial vehicle electrification.
Empower QLM, a division of RGBSI, is a proud select partner to PACCAR.
About Empower QLM
Empower QLM is a cloud-based quality management system (QMS) for total quality lifecycle management (QLM). The technology allows customers and suppliers to align supply chain management strategies with manufacturing quality through full workflow automation and digital transformation. In addition, the tool is the only QMS on the market that enables PPAP automation as result of APQP. It establishes compliance with industry-specific standards across the automotive, aerospace, defense, medical, locomotive, and energy & power generation sectors. From product conception through manufacturing, Empower QLM provides complete transparency by connecting all relevant parts of the supply chain.
About RGBSI
RGBSI delivers business solutions that close the gap between strategy and execution for global organizations of all sizes. Its portfolio of solutions spans across the verticals of workforce management, engineering, quality lifecycle management (QLM), and information technology (IT). Through strategic partnerships, the company helps clients enhance performance, adopt innovation, and access global resources.